What Health Safety and Environment Act says..
As per BOCW and Factory Act every companies have to deploy safety professionals (safety management Officers) because safety professionals provide technical  assistance in identifying, evaluating and controlling hazards in all industries, safety professionals work virtually anywhere where people might be exposed to hazards.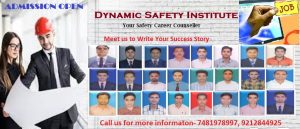 No matter what a company's business is, its employees can encounter various types of hazard. Even working at a computer terminal can be hazardous, producing long-term injuries to the hand and wrist, back or other parts of the body only trained safety management officer can analyse hazards and control.
Whether a company involves in a business of  manufacturing, mining, transportation, agriculture, petro-chemicals, fuels production, construction, refinery of oil & gas, dock yard, shipping cargo, power plant or provides services, it will always face hazards in its operations. It is mandatory to that the a company should employ one or more safety professionals (Safety management Officers) as per state laws.
In recent years, safety professionals (safety management officers) are working more and more in diverse and non traditional worksites as many job opportunities have expanded to government, construction, transportation, service industries and consulting practices and others industry. Such employment requires safety professionals (safety management officers) to travel to different worksites to provide support to their internal and external clients.
Many companies have combined safety, industrial hygiene, environmental affairs, fire protection and ergonomics into a single function. A safety professional (safety management officers) may advance by overseeing the work of all areas in the industry.
Many safety professionals have aspire to become a Corporate Safety Manager/Director/Vice President with responsibilities for leading and managing the safety function in the organization's corporate headquarters. Therefore they have broader responsibilities and may have to travel often to visit various work sites.
Thanks
Please follow and like us: